Figure 1. Use PLS playlist generator
Add necessary MP3 files to the Selection List (these files will be added to PLS playlist). Read more...


Mark necessary items in the Selection List.

Hint: you can use the standard Windows keyboard shortcuts: Ctrl+A, Shift or Ctrl with mouse click.

Hint: you can use a mode "Change all items" also; changes will be applied to all items if this mode is used.


After marking items in the Selection List, you can generate PLS playlist for selected files. You should input PLS playlist name and change playlist parameters if it is necessary.

Hint: you can use Templates if you want to generate a name of playlist (or path) automatically.


To generate PLS playlist you should click on the "Generate!" button.


Attention

To generate PLS playlist, you should use "Playlist Generator". The Playlist Generator may be hidden. Press the "Playlist" button on the toolbar to show his.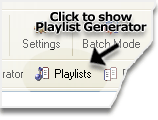 Figure 2. Use Playlist Generator to generate PLS playlist
More info about Mp3 Tag Assistant Professional
---
See also
© November 29, 2005 by AssistantTools.com. All rights reserved.