AssistantTools.com web site
Ÿ
Download Mp3 Tag Assistant
Ÿ
Buy Mp3 Tag Assistant
---

Mp3 Tag Assistant can work in two modes:


·

Standard mode. Using Standard Mode, you can quickly change tags and quickly

make other operations above musical files

.

| | | |
| --- | --- | --- |
| | · | Batch mode. Using Batch Mode, you can change tags for a large or very large list of files. You can first change the data virtually, while the program will save all those changes to files afterwards. You will also be able to make the filenames the way you want them, create playlists and copy the changed files to the folders with your favorite music. |

In the Standard Mode of working with a list of music files you can perform action using some tabs on the Working Panel. Each tab corresponds to a certain operation with music files. Saving the changed data is performed when switching between tabs and when pressing the "Save the changes" button.

In the Batch Mode all operations with music files are specified in the Action List (this list is not available in the Standard mode). Changes applied to files during any Action are virtual, i.e. they are not saved to files automatically, but are visually displayed in the Selection List.

When the mode is changed, the program interface is changed as well. The
figure
1 shows the program interface in the Standard mode, and
figure
2 shows it in the Batch mode.

The set of available actions and the method of saving changes applied to files are changed together with the interface.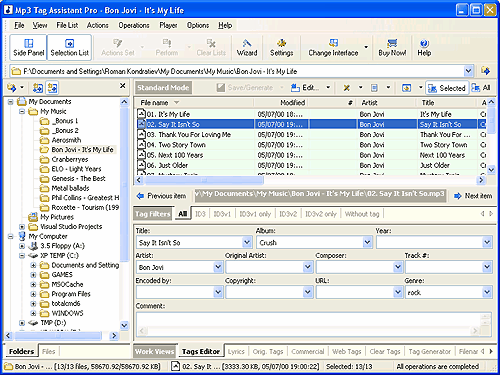 Figure
1. Standard mode.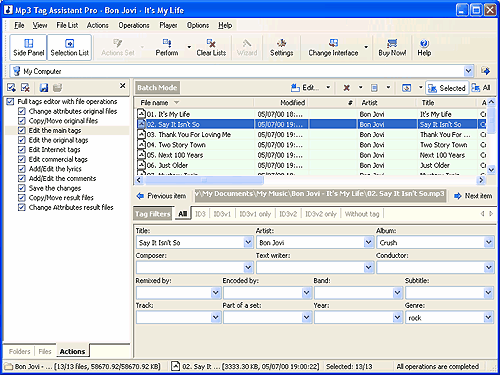 Figure
2. Batch mode.

For more information about Mp3 Tag Assistant interface modes, see topics "Standard Mode" and "Batch Mode".